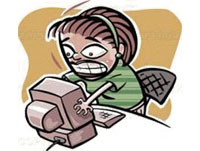 Welcome to the Computer Science Frequently Asked Questions (FAQ) page. This FAQ is maintained by the Department Systems Administrator and is updated regularly to cover common questions and important changes in computer resources and services.
Access to many of the Department's resources are controlled through a Computer Science (CS) access list. The list is populated from a report of all students enrolled in CS courses prior to the start of classes and again after the end of the add-drop period. Students who register between these updates should contact the CS Help Desk to get added to the access list. More on this is discussed in more detail on the Quick Help page.
The Quick Help, Issues/Troubleshooting, Other Help and Computer Resources pages will be of most interest to students new to CS. Returning students should probably read the Important Notices and On the Planning Board pages.
As always, you may email the CS Help Desk if you have any questions or suggestions.